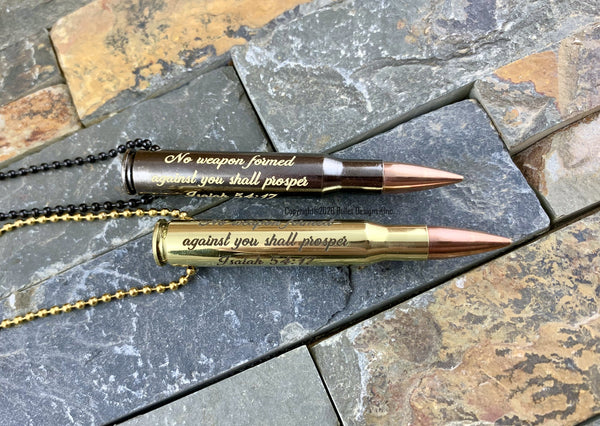 Engraved Bible Verse Bullet Necklace, Isaiah 54:17, 30-06 Drilled
****BLACK 30-06 Bullet Currently on Backorder.  If black is selected, brass will be sent.  Thanks for your patience!
The following bullets are in stock and available:
30-06 Brass
We've taken our Awesome Custom Engravings to a whole new level! Our Engraved Bible Verse Bullet Necklace is made from a real, fired bullet casing and engraved with a laser.. What a unique, affordable gift! A special keepsake to be handed down from one generation to another!
We recommend reviewing your shipment for accuracy as soon as you receive it. Bullet Designs® does not accept returns or exchanges due to customer inaccuracies.
Comes in a Bullet Designs® gift box.
Bullet Designs, Inc. products are created from bullets that have been fired, recycled and handcrafted into jewelry.

Please verify the correct shipping address before making your payment. If we ship your item to an old or invalid address and you are not able to locate the item, we are not responsible for shipping a replacement.